I could not be more excited and proud to share the following news with you.
My good friend and colleague, Jason Falls and I have written a book.
Yes. It's true, The Rebel's Guide To Email Marketing (pictured to the right) is now available for pre-order on Amazon. It's set to be on the shelves sometime later this summer or early fall.
Why Did We Write This Book?
To become rich and famous, of course. Actually, if you are hoping that a business book will net a boatload of cash, you're likely kidding yourself – as Jason pointed out last week.
Okay. Seriously, we wrote the book because we saw a lot of advice being doled out that was old, out-of-date, and – frankly – not so great. Neither Jason nor I live in a world of extremes – always do this or never do that. Email marketing – and marketing in general – is about what works best for your audience. Sometimes it's necessary to break the rules and test some of the "best practices." The Rebel's Guide does just that. We turn some of these "best practices" on their heads providing case studies of individuals and companies who break the rules and still win.
Who Is This Book For?
The Rebel's Guide was written for you – the person whose job involves marketing in any way shape or form (that *should* apply to most of us in the business world). You could be the CMO, VP of Marketing, Director of (Online) Marketing, Marketing Manager, or Email Marketing Manager. You may work at an email service provider giving advice to clients (if you are an account manager) or prospects (if you are in sales). You may be at a large organization or be a solopreneur. You may be just dipping your toes into email marketing or be a seasoned veteran. Yes – even if you've been in the email marketing industry for years, this book is for you. Sometimes we get a bit set in our ways. The Rebel's Guide forces you to step out of your comfort zone a bit.
What Can Business Expect To Get Out Of This Book?
Similar to No Bullshit Social Media: The All-Business, No-Hype Guide To Social Media Marketing (Jason's first book), individuals and businesses get a straightforward approach to effective email marketing. Instead of telling you what most people do (the "best practices") we share what the Rebel's would do. We challenge preconceived notions of how email "should" be done. We provide actionable steps to grow your email list and to break some of the rules – all with the intent of using email marketing to grow your business.
5 Ways You Can Help, Assuming You'd Like To
Whether you are a friend, family member, colleague, email marketing evangelist, or just someone who is reading this sentence right now — you can help! Here are five ways.
If you'd like us to contribute to your blog, email newsletter, or some other content piece, please let us know here. We'd be happy to do interviews, guest posts, etc.
If you'd like us to talk to your organization or company about email marketing, we can arrange a virtual session – interviews, webinars, Q&A sessions, etc. Please fill out our contact form and let us know the details.
If you'd like us to speak live at your event, company or the like, we'd love to! In exchange for our time, we ask that your organization or its sponsors purchase a minimum of 100 books and cover our travel expenses. Again, please drop details in our contact form and we'll do our best to accommodate. If you know Jason or me, you know that we love getting on the road and speaking to folks face to face.
We. Are. PUMPED.
To say that we are pumped is actually an understatement. We've been dying to share this news with you ever since the kind folks at Pearson asked us to write the book. The book writing process is long and, at times, tedious — but we did it! We cannot wait for you to read The Rebel's Guide and start breaking the rules.
Thanks so much for believing in and supporting us as we continue on this journey.
We put together this short (2 min 42 sec), unscripted video for you … so you can see our excitement. Enjoy!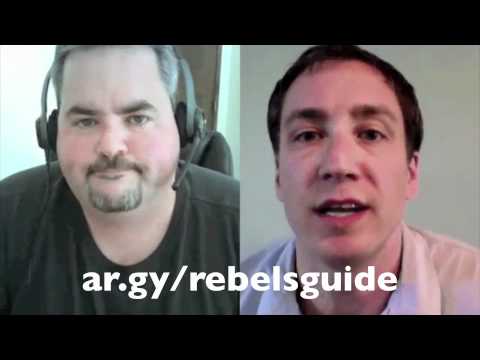 Can't see the video? Try viewing directly on YouTube.
In case you missed all of the links above, we encourage you one last time: Pre-order The Rebel's Guide To Email Marketing now!
Cheers.
DJ Waldow