85% of all emails sent are spam.
Yup. According to The 2012 Return Path Sender Score™ Benchmark Report (great report!), after reviewing 130 million IP addresses sending nearly 20 trillion emails, they found 85% of all messages received by ISPs to be spam.
If you think about that number, it's actually quite amazing how little spam most of us actually receive. Most of the major email providers – Gmail, Yahoo!, AOL, etc – do a nice job filtering out the spam and only dropping "legit" email in our inboxes. That being said, if you are an email marketer, you better be checking your spam folder often! <–tweet this
But how can you tell if an email is spam? What are the giveaways?
As an email marketer, it's critical to understand what the "tells" of a spam message are so you can be sure to avoid them in your own messaging. In today's screencast, I review an email my dad sent me this morning … one he thought was legitimate … but turned out to be spam.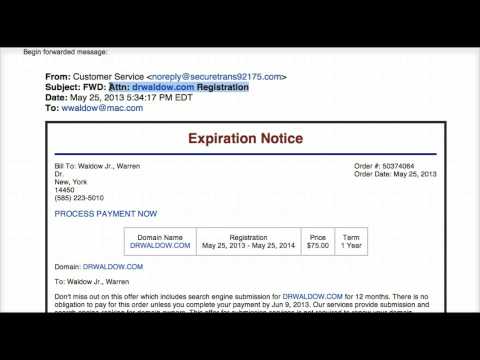 Can't see the video? Try watching on YouTube.
Have you ever been duped by a spam email?
DJ Waldow
Waldow Social
P.S. Have you heard the news? Nick Westergaard and I have started a weekly podcast called The Work Talk Show, where we interview crazy-smart folks about how work gets done. Give the latest episode a listen!
---
DID YOU KNOW…
I recently launched a new online course, Email Marketing Made Simple, that promises to help make you a better email marketer.
-Having trouble growing your email list?
-Not sure what a preheader is?
-Avoiding using the word "free" in your subject lines because someone told you it was a "rule."
-Having trouble figuring out how to use social media and email marketing together?
-Not sure what you should be testing and how often?
If you answered yes to any of the above questions (or all 5!), I can help.
Learn More about Email Marketing Made Simple