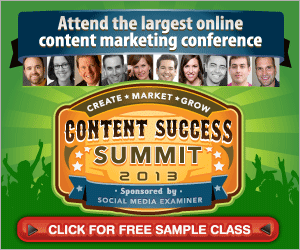 Last week I announced a free Content Success Summit pass giveaway. There were some really great entries. So many that I could not pick a winner. Also, I am a bit biased as I personally know a few of the people who entered.
Feel free to read all of the entries here. 

So … I asked my wife (she's an Ob/GYN – not in the content marketing world) to pick the winner.
I'm super-excited to announce the winner.
CONGRATS TO … MICHAEL CUNNINGHAM
Here what Michael "IronBacon" Cunningham's comment:
I am requesting this free pass not so much for me, but for a marketing department that is hungry, and poised, to take a company beyond the comfortable corporate verbiage and into the realm of true content marketing and storytelling.

I work in a marketing department that is facing serious boredom. Okay, we're not sitting around waiting for something to do, believe me, we're working our asses off. But we've been doing the same put-your-head-down-and-get-the-project-done, insert marketing gobbldy-gook-here kind of marketing for years and we're sick of it.

But an event like the Content Success Summit would be a great team building exercise that would light a fire under our collective asses to strive for greatness.

I want this free pass for my marketing department: A collection of talented and creative people who have gathered pitchforks and are ready to storm the ramparts of content marketing mediocrity. This seminar could be the spark that lights our torches to go along with our pitchforks and light our way to the castle.

Thanks for the opportunity, D.J. I think you're the bee knees no matter what Nick Westergaard says about you behind your back.
As it turns out, Michael is a Hoosiers basketball fan. As a die-hard Michigan Wolverine (class of '98!), it pains me a bit to give this free pass to an IU fan, but at least it stays in the Big 10. Also, I'll be going to Bloomington to see my would-have-been-#1-Michigan-Wolverines beat Indiana on February 2. Go Blue.
(Michael – please DM me with your contact information so I can get you the free Content Success Summit pass)
Wait, There's More!
The one bummer about giveaways like this is that there can only be one winner (I only had one free pass!). So, I figured I'd offer another chance to win something for free.
For each ticket to Content Success Summit that you purchase using this link (affiliate), I'll send you a FREE copy of my new book, The Rebel's Guide to Email Marketing.
Yes, that's right. If you purchase a ticket to Content Success Summit using this (affiliate) link … you'll get a FREE copy of my new book.
It's that simple.
What Is Content Success Summit 2013?
Not sure what the Content Success Summit is all about? I've included a short description below. You can see the full details here.
This event, organized by the folks at Social Media Examiner, is a special online (no travel!) conference designed to help you master content marketing.
WHERE: At your home or office! You attend this live event using your computer (no long-distance bill or travel expenses!).
WHEN: Starting February 5, 2013 (spread over four weeks). Plus you'll get recordings and transcripts of all live sessions.
PRICE: $597 … but …
My 45-minute session, scheduled for Thursday, February 21st, is titled The Secret to Email Marketing: How to Grow Your List
I hope to see you there. Again, if you purchase a ticket using this (affiliate) link, I'll send you a free copy of my book, The Rebel's Guide to Email Marketing.
DJ Waldow
Waldow Social
P.S. Have you heard the news? Nick Westergaard and I have started a weekly podcast called The Work Talk Show, where we interview crazy-smart folks about how work gets done. Give the latest episode a listen!
---
In case you missed the news, my buddy Jason Falls and I  recently wrote a book called The Rebel's Guide to Email Marketing: Grow Your List, Break the Rules, and Win?
Yup. It's true.
In the book, we talk about growing your email list as well as breaking "the rules" of email marketing. Break the rules and grab your copy today, right now. Here –> AVAILABLE NOW!
Reminder: There is no such thing as "best practices" when it comes to email marketing. Best practices are those that are best for your audience.