A few years ago, Groupon had the distinguished title of "Best. Unsubscribe. Ever."
They've since changed it, but thanks to YouTube, you can see a version of what it used to look like: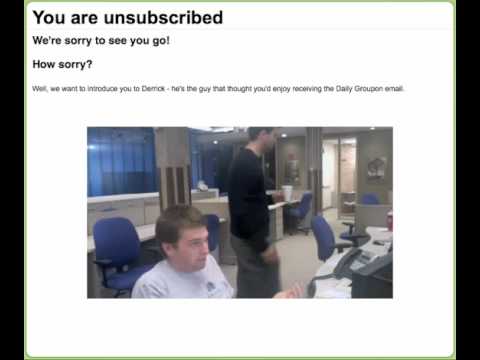 Can't see the video above? Try watching on YouTube.
Pretty awesome, right?
But the days of Groupon being #1 are over. There is a new leader in the "Best. Unsubscribe. Ever." category: Hubspot.
This is what happens after you opt-out of all Hubspot email:
Before we even discuss the video – which is amazing – check out the rest of the page.
1. "Your changes have been noted." – Big font. At the top. It's pretty clear what action you – the (un)subscriber just took. I feel like there is a bit of psychology to that sentence too. While there is no argument it was my choice to opt-out, that sentence makes me fell just a bit guilty. Know what I mean?
2. "We already miss how close we used to be." – After that slight bit of guilt, now they drop some humor. Well played.
3. "How about a second chance?" – More humor, but this time with a clear, strong call to action. Since you are already unsubscribed, why not take the opportunity to connect with Hubspot on its social media channels? Facebook. LinkedIn. Twitter. Google+. Simple. Easy. Smart.
One suggestion: Similar to what Groupon used to do, I'd put a "Resubscribe" button somewhere on this page. Make it big (but not too big) and give folks a chance to opt back in. Why not try, right? This would be easy to track as well.
Okay.
Ready for the video?
Wow. Awesome. Wow. Awesome.

Can't see the video above? Try watching it here.
What do you think? Am I right? Best. Unsubscribe. Ever.
Well played, Hubspot. Well played.
DJ Waldow
Waldow Social
P.S. Have you heard the news? Nick Westergaard and I have started a weekly podcast called The Work Talk Show, where we interview crazy-smart folks about how work gets done. Give the latest episode a listen!
---
DID YOU KNOW…
I recently launched a new online course, Email Marketing Made Simple, that promises to help make you a better email marketer.
-Having trouble growing your email list?
-Not sure what a preheader is?
-Avoiding using the word "free" in your subject lines because someone told you it was a "rule."
-Having trouble figuring out how to use social media and email marketing together?
-Not sure what you should be testing and how often?
If you answered yes to any of the above questions (or all 5!), I can help.
Learn More about Email Marketing Made Simple