Last week I had the honor of Skying with Jason Falls – my good friend, colleague, and co-author of The Rebel's Guide to Email Marketing (pictured right).
In this 10 1/2 minute conversation, we talk about his upcoming Explore event - Thursday and Friday, Aug. 16-17 in Minneapolis, MN.
BONUS: We also touch on a few other topics – editing Word documents, Roy Firestone, PTI, bourbon, the Pittsburg Pirates, and Jason's Twitter strategy (hint: it involves a curse word).
Check it out.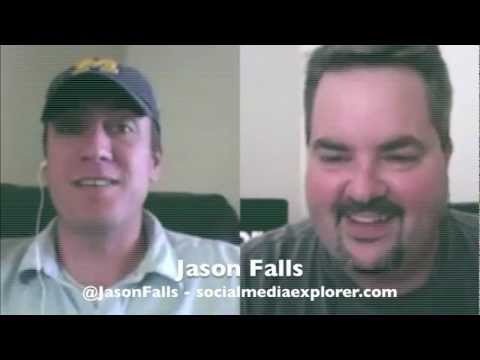 Having trouble seeing the video? Try watching directly on YouTube. And in case you were wondering, I applied the "Raster" filter to this video (via iMovie). I thought it looked kinda neat.
More About Explore Minneapolis
As always, Jason has locked up a killer lineup of speakers, including Jay Baer of Convince and Convert and co-author of The Now Revolution, Tom Webster of Brand Savant/Edison Research/The Social Habit (and one of my favorite speakers of all time), Nick Westergaard of Brand Driven Social, and .. well … frankly a ton of other super-sharp speakers. I'll actually be there too speaking about how to be an email marketing rebel.
Like all of Jason's Explore events, Minneapolis promises to be an intensive day of learning and networking. As the Explore site states, the "events are geared to 'push the thinking' and help you drive your digital and social media marketing forward."
Early bird registration has closed already, but Jason has been kind enough to offer a $200 discount if you know me (or are reading this now). Just enter in the promotion code "IKNOWDJ" on the registration page for a discounted price of only $250! The cost gets you two days of learning, breakfast, lunch, a cocktail reception and an invitation to an exclusive Explore community for ongoing learning and connections!
Ready to purchase tickets? Don't forget to enter the promo code "IKNOWDJ" for $200 off!
See you in Minneapolis!
Cheers
DJ Waldow
——
In case you missed it in the conversation I had with Jason above, we wrote a book together! In the book, we talk about ways to grow your email list AND break some rules along the way. Be sure to grab your copy of The Rebel's Guide to Email Marketing: Grow Your List, Break the Rules, and Win, to learn about all sorts of email marketing "best practices" individuals and companies are breaking each and every day … and still finding success.